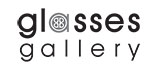 Buy Now Pay Later at Glasses Gallery
As a basic need for many people with vision correction needs, prescription glasses should be able to please everyone's fashion style, design, personal branding. As such, there should be easy to find one place where you can find your desired glasses.
One such place is Glasses Gallery, with up to 5000 different frames available online as eyeglasses and as sunglasses (prescription lenses available). To buy glasses online has never been so easy. With so many designer glasses and world-renowned brands for eyeglasses and prescription sunglasses, it has one of, if not the best selection.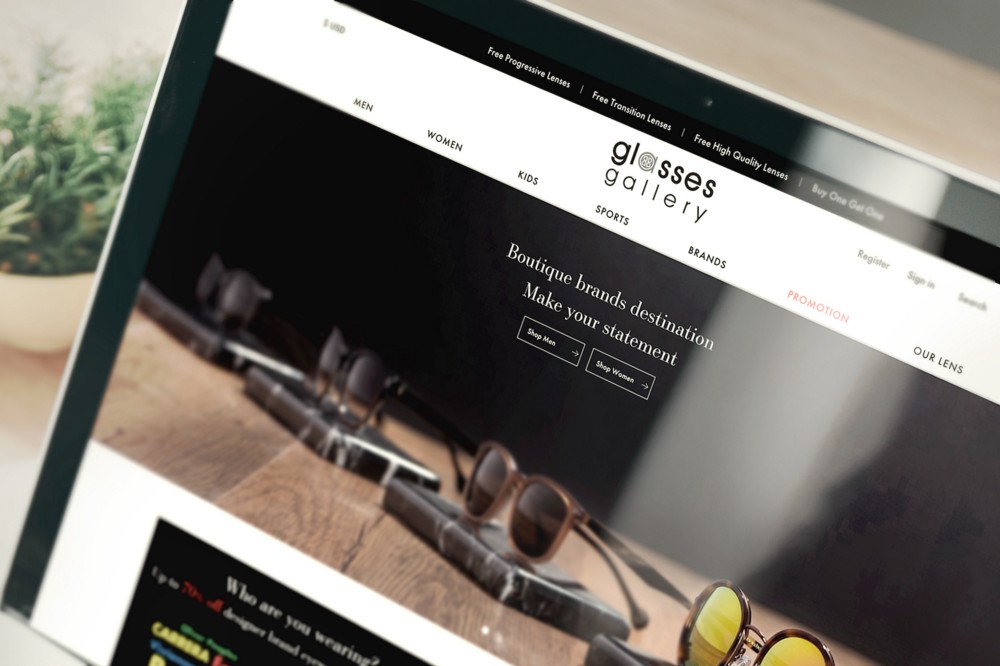 Whether the shape you look for is a round, square, rectangle, or pantos glasses, or full rim, half rim or rimless frame of glasses. We have them all and in a variety of materials like metal, titanium acetanium, plastic or with accessories such as Swarovski crystals.
The many brands available on our website would make for a long list to mention them all. Some of the many brands that we have, both for adults glasses and kids eyeglasses include Ray-Ban, Lindberg, Lacoste, Levi's, Miu Miu, Guess, Schnuchel, Tomato Glasses, Julbo and many more.
Most of the time, we are all looking for great glasses, whether from famous brands or from low-cost ones. But affordable eyewear is at the core of GlassesGallery and that's done without affecting in any way the quality.
Affordable glasses from various brands and with amazing lens quality. Luxury glasses at affordable prices, designer glasses at affordable prices. All this sounds sometimes too good to be true.
The Glasses Gallery company was created with the goal of offering affordable eyewear, including for brands such as Schnuchel and Lindberg. Such brands are known for being expensive due to the high quality of materials and handcrafting procedures used in making them.
But being affordable does not stop only when it comes to the price of all the high-quality frames we offer. The lenses are made from the best materials available and are available at amazing prices. With standard coatings offered for free, that most of the time is available at hefty prices, we always do our best to offer the best price/quality balance.
How can we make the glasses purchase easier and more affordable?
We have some great prices here at GlassesGallery, but you might want to be able to spread the cost over several months or more. The reasons behind such need might vary from having sudden large expenses to cover and not be left with enough cash or simply wanting to spread the cost, rather than dropping the full amount at once.
Even with affordable eyeglasses available, at times we might need or want to reduce our costs even more to get either one of the affordable brands or the more expensive designer glasses available on GlassesGallery.
The Lindberg glasses despite our best to reduce the cost, still cost a few hundred dollars for the frame only. And despite the 15% discount we offer for our "First-time" buyer and the discount for brands such as Schnuchel and Gotti, the frames still have a higher price tag.
For such cases, we have added the option to buy using our "Split it" option, which is available at "Check out".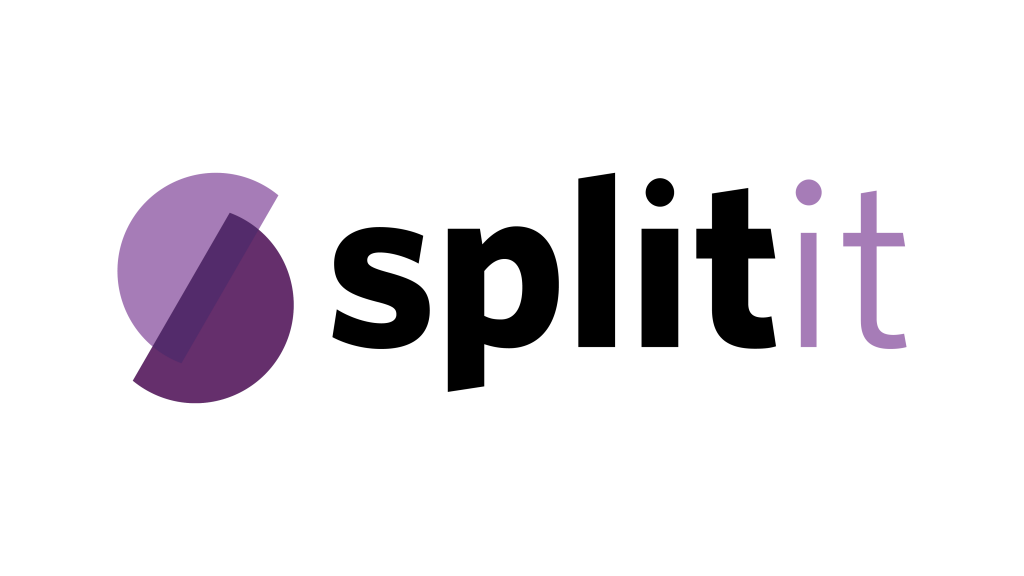 The "Split it" option, allows you to spread the cost through several monthly payments. This is offered as 0% interest payments. The credit card provider is not an important criterion, as long as it is a valid credit card.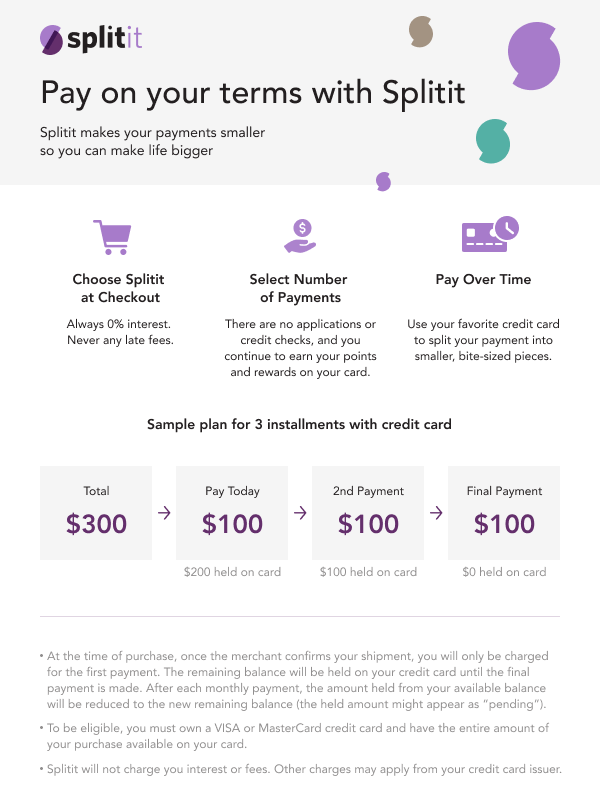 We are indeed talking here about a payment solution that will help you get the much-needed eyeglasses without paying any interest rate or worrying about not being able to use this payment due to your credit score that limits you in accessing a credit card.
Regardless of the credit card companies from which you are having your credit card, this option helps you in avoiding interest fees from your usual credit card issuers.
We have been getting now into some bank-related terms and it is important to cover this for making it easy to understand how great this payment option is.
If you already have an account open with your bank but not a credit card, try talking with them about getting credit scores evaluation and receive a credit card that can save you bucks on websites like GlassesGallery.
When selecting the "Split it" option, you will be able to select the number of months needed to pay off the balance. You won't have to worry about any cash advance deposits or any others such as minimum payments.
The "Split it" payment option also does not add up any other fees, keeping it as a 0% interest payments and 0 annual fee. It will also be easy for you to see the remaining balance as you will know exactly based on the number of payments selected.
Yes, indeed there are certain terms and conditions that apply to all our online purchases, which is available to read before placing an order.
What is the next step to do?
The next step is very simple as it only requires you to go to GlassesGallery, pick the frame you love, add the lenses needed and proceed with payment with "Split it".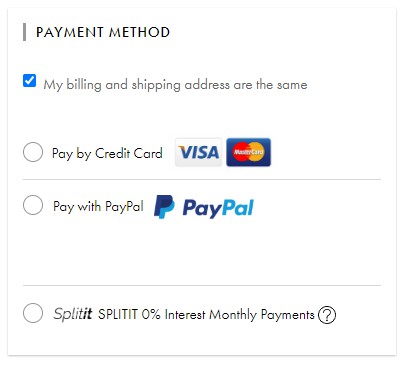 Have a look at our great choice of Designer Outlet selection and make yourself feel like a Super Star with your new designer glasses.
There's a particular frame you are looking but you can't see it on our website, reach our customer service team through cso@glassesgallery.com and we will do our best to find the frames you like.